Logistics Management
Tired of the logistics hassle? We've got the solution!
Our Logistics Services Concierge™ simplifies it all.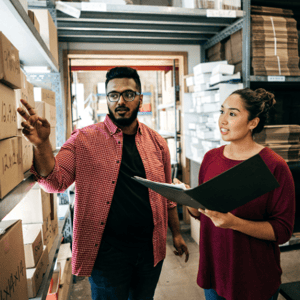 Your Logistics Services Concierge™
Are you tired of facing the challenges that come with managing your logistics? From the frustration of not knowing where your orders are to the hours spent on the phone seeking answers, it's clear that the logistics process can be a cumbersome ordeal. Fortunately, we have the solution to your logistics woes.
With over 15 years of experience in the industry, we understand that time is money. That's why we're excited to present our Logistics Services Concierge™, a game-changing service that will revolutionize how you handle your logistics.
Simplifying Complex Tasks
Setting up delivery appointments, tracking shipments, and navigating the intricacies of claims management can slow your operations down. But when you partner with us, it's like having a dedicated logistics department at your beck and call, without the heavy overhead expenses. We serve as a fractional logistics management department, seamlessly managing all your inbound and outbound loads, even if you already work with another broker.
Our Simple Yet Powerful Mission
Our mission is straightforward: to make your operations run as smoothly as possible and bolster your bottom line through strategic alliances and advanced technology. We're not just here to manage logistics; we're here to drive results for your business.
The Benefits of Choosing Our Logistics Services Concierge
1. Efficiency and Time Savings
Eliminate the hassle of managing logistics tasks.
Free up valuable time to focus on other aspects of your business.
Say goodbye to frustrating hours on the phone seeking information.
2. Cost-Effective Solution
Enjoy the benefits of a dedicated logistics department without the hefty overhead expenses.
Our expertise and efficiency save you money in the long run.
3. Seamless Integration
We work in harmony with your existing broker or logistics team, ensuring a smooth and integrated process.
4. Expertise and Dedication
With over 15 years of industry experience, we are passionate about managing logistics projects and committed to delivering outstanding results.
5. Technology-Driven Solutions
Leverage our advanced technology to stay updated on every aspect of your logistics, from tracking shipments to managing claims.
Ready to Enhance Your Logistics?
Partnering with us means transforming your logistics experience. With our Logistics Services Concierge™, you'll streamline your operations, save time, and boost your bottom line. Say goodbye to logistical headaches and hello to a seamless, cost-effective solution.
Discover the difference of working with a team dedicated to delivering results and making your logistics operations run like a well-oiled machine. Contact us today to get started on your journey towards smoother logistics and increased profitability. Your success is our passion!
Let us help you with your Logistics?
Working with us is like having a dedicated shipping and logistics department without the overhead expense. We take care of everything!